WEEKLY UPDATE - 1 JULY 2022
What Happened In Crypto This Week
If we're really at the bottom, why is price not rebounding? 
Dear Moon Birdies, 
All things considered, it was a quiet week in the crypto market. However, with Bitcoin struggling to rise above 20K and altcoins at record lows, the last thing anyone wants now is a ranging market. We want fireworks, and going by technical indicators, that's what we should be getting. So, where's the reversal? If we are truly at the bottom, why is price not rallying? We discuss this and more below.
The chart below shows Bitcoin price action over the past 7 days, and the summary of it is: nothing is happening. As someone who has invested in BTC (or is planning to), this type of ranging market is the last thing you want to see now. For the past 2 weeks, experts have been saying the $20K zone is the bottom. They quoted several technical indicators as proof that the worst is about to be behind us: from the 200-SMA to the RSI and the Mayer Multiple. But that's not what's happening.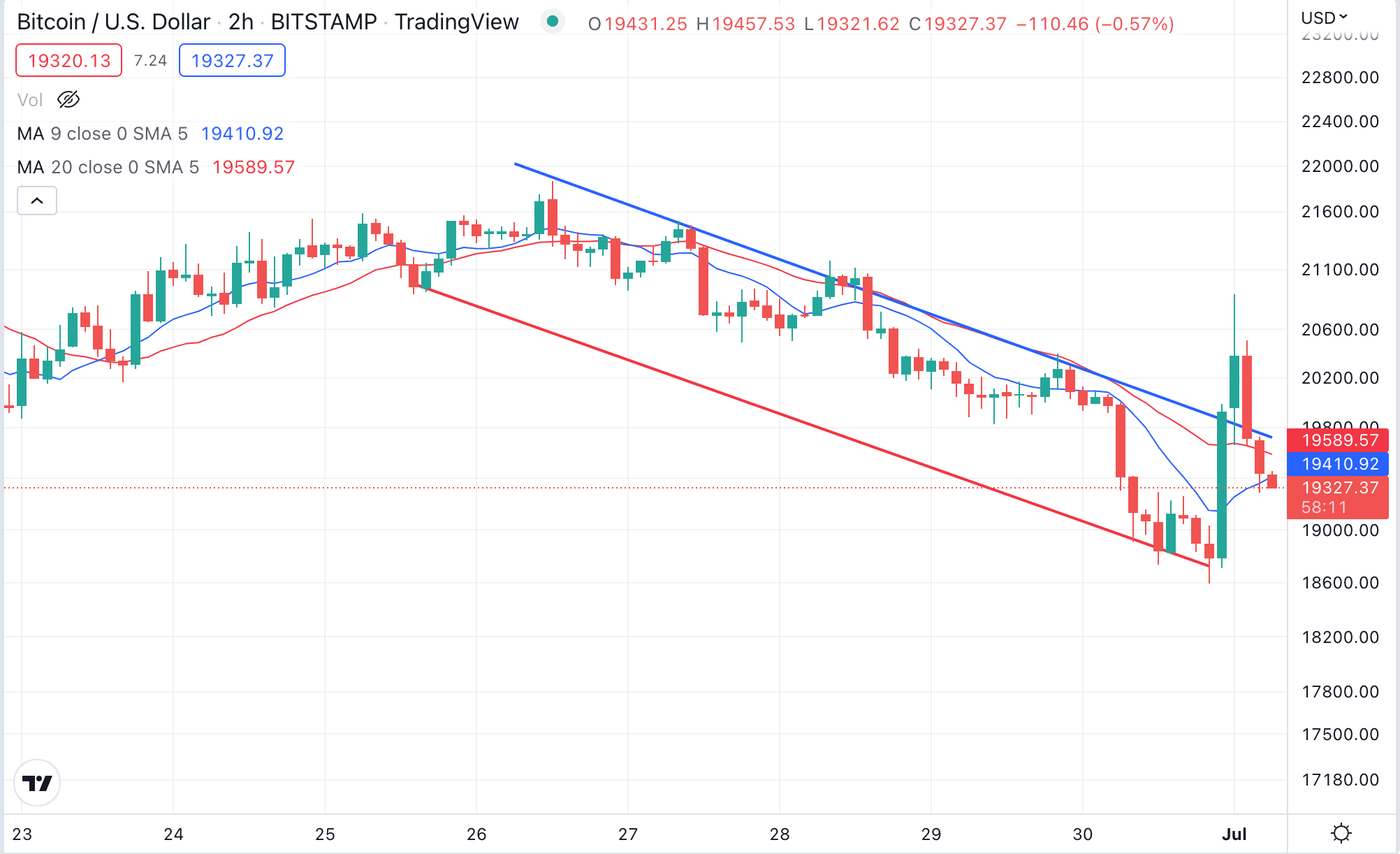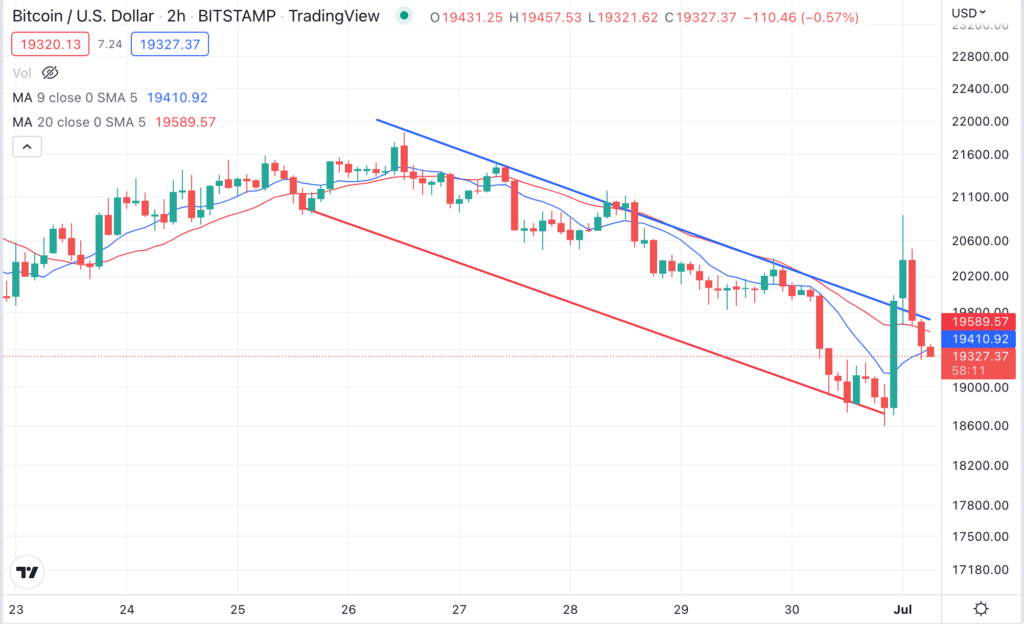 In an ideal situation, once a market reaches the bottom, a reversal should follow. By now, BTC should be approaching the $25K region and on its way to $30K. However, that's not the case and we have to ask 'why?' If price is not rebounding, what does it mean for BTC and Crypto? And what comes next? 
To answer these questions, you need to understand that these are unprecedented times. And a reversal is not in play because the factors that brought down the Crypto market have not yet been fully resolved. Aside from the terrible macro conditions caused by traditional finance, Terra crashed with billions in market cap. 3AC is going under, Celsius is on the verge of bankruptcy, and BlockFi just lost a ton of its valuation. These events happening within a short period is enough to change the dynamics of any market, and Crypto is feeling the pain right now. 
So, we know the problems, but how do we solve them? How can this situation be turned around to ensure a positive outcome? How does Crypto get out of this and head toward historic highs once again? By doing what it always does: innovate. If the past months have been about deleveraging, the next ones need to be about innovation. 
The ecosystem that brought us DApps, DeFi, NFTs, and DEXs needs to prioritize building transformative applications again. Crypto needs to return to what made it special in the first place, and that's creating solutions that make life easier for the common man. Once the bad actors have been flushed out, we must usher in new and impactful use cases. The traditional sectors have several problems that need solving, and Web2 is ripe for disruption. For the next few months, Crypto and blockchain needs to focus on the fundamentals and developing products that drive mainstream adoption. 
Thankfully, we're seeing some promising signs, but this process will not be immediate – good things take time. To stay informed and get daily updates, join us on the Moon Birdie Telegram channel where we provide deep insights into the Crypto market, along with real-time price analysis.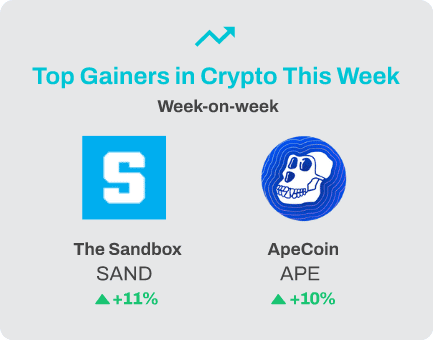 SAND rises by 11% during busy week
The Sandbox is an Ethereum-based project that lets users buy (and own) property in the virtual environment of the metaverse. The token is up due to rumors that the company may be acquired by Meta (Facebook). It was helped by news that The Sandbox had reached an agreement with TIME magazine to build a virtual Times Square in the metaverse.
ApeCoin is up 10% after Snoop Dogg/Eminem video
ApeCoin serves as a governance token for the Bored Ape Yacht Club, one of the most valuable NFT collections in the world. APE has been enjoying some positive coverage due to the NFT.NYC event last week. Then some days ago, hip-hop superstars Snoop Dogg and Eminem released a music video that featured Bored Ape NFTs, pushing the coin up 10% for the week.
Bankman-Fried and Goldman Sachs to the rescue
After news broke that Three Arrows Capital (3AC) was on the verge of bankruptcy, market speculators started looking around for companies that may be dragged down by the hedge fund. So far, the two biggest victims seem to be BlockFi and Voyager Digital. Apparently, these two gave big loans to 3AC, with Voyager's exposure said to be over $660M – what?! As a result, the recent collapse of Three Arrows has them fighting to stay afloat.
In comes Sam Bankman-Fried (SBF), the CEO of FTX, founder of Alameda Research, and a well-known figure in the Crypto space. SBF appears to have taken it upon himself to prevent further implosions that may harm the market, and he came with his wallet. Last week, Alameda gave Voyager Digital a line of credit worth about $500M, and some days ago, FTX offered BlockFi $250M to support its balance sheet. 
News coming out over the past hours indicates that FTX will buy BlockFi out for $25M after the $250M line of credit – this is a spectacular fall from grace. And it  would leave BlockFi's current shareholders with nothing. It's all like an episode of 'Billions', and we hope these companies end up making decisions that favor their customers above all. On another note, Goldman Sachs is said to be preparing a $2B fund to mop up after Celsius, another victim of the ongoing liquidations.
These acquisitions and bailouts are good, because it indicates that institutional investors are looking beyond the current downturn and playing the long game. As bad actors go bankrupt, healthy companies should take up their place and prevent further asset dumps that could worsen the current bearish conditions. 
How to Earn Crypto Via Staking
Occasionally, companies in the Crypto space organize airdrops, giveaways, and promotional offers to their current users and potential customers. This is mostly done to encourage signups, reward community members, and increase hype & buzz around their projects. Whatever the intention, these campaigns give you an opportunity to earn tokens with minimal effort. In this Moon Birdie Academy lesson, we discuss Everything You Need to Know About Airdrops. 
While on the topic, OKX – a leading spot and derivative exchange – has an ongoing promo. And you stand a chance to earn $2,000 worth of crypto. All you have to do is register on their website via this link ⇒ OKX OFFER and download the mobile app.  
Here are some top stories from the crypto space over the last 7 days.
Grayscale sues the SEC over Bitcoin ETF
Grayscale Investments is suing the US SEC for anti-Bitcoin bias. Here's a quick analysis on why it's about time ⇒
Grayscale/SEC
Cardano network upgrade scheduled for July
Cardano plans to implement a hard fork to "bring significant performance and capability upgrades" to its blockchain this July.
Biggest spot Bitcoin ETF to launch in Europe
Jacobi Asset Management is set to launch an exchange-traded fund and make it possible for European institutional investors to trade BTC.
1confirmation announces $100M NFT fund
A venture capital firm backed by Mark Cuban, Peter Thiel, and Andreessen Horowitz has announced a $100M fund to buy NFTs. 
We partner with the leading crypto companies to source the most recent and convenient deals for you: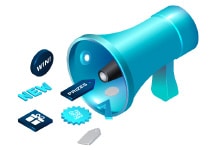 OKX is one of the biggest Crypto exchanges in the world. Sign up now for a chance to win $2K
X-VPN is trusted by over 100M users worldwide, get a massive 50% OFF your yearly subscription
Coinsmart provides the fastest way to buy Bitcoin. Earn free BTC on your first deposit
Thanks for staying with us till the end of this week's edition. We hope you picked up some insightful nuggets along the way. The power to create wealth is out there. It's up to you to fly high and get it!
To learn more about cryptocurrencies, investing, trading, and blockchain technology, please visit our Academy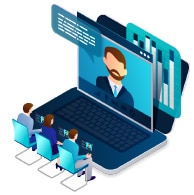 The content in this newsletter is for informational purposes only. The content of this email is not intended to serve as financial advice. Every investment and trading move involves risk. Do your own research before making a decision.

Disclosure: some of the links we've included are affiliate, you earn rewards and discounts and we earn a commission