WEEKLY UPDATE - 27 MAY 2022
What Happened In Crypto This Week
Dear Moon Birdies,
This week, bitcoin discussions dominate the World Economic Forum, signaling the growing influence of digital currencies. JPMorgan says BTC is under-valued, and replaces real estate with crypto as preferred investment. We also explore why a decentralized social media platform pushed AAVE up by 28%, and how you can earn free crypto from airdrops. 
BTC remains stuck in a range between 28,700 and 30,700. In fact, the chart looks almost the same as last week, and analyzing it would be a repeat of the previous review. So, we'll zoom out the price chart for a top-level overview. Historically, the blue line above (200-period moving average) has served as support for bear market bottoms, providing investors with a strong and reliable bullish signal.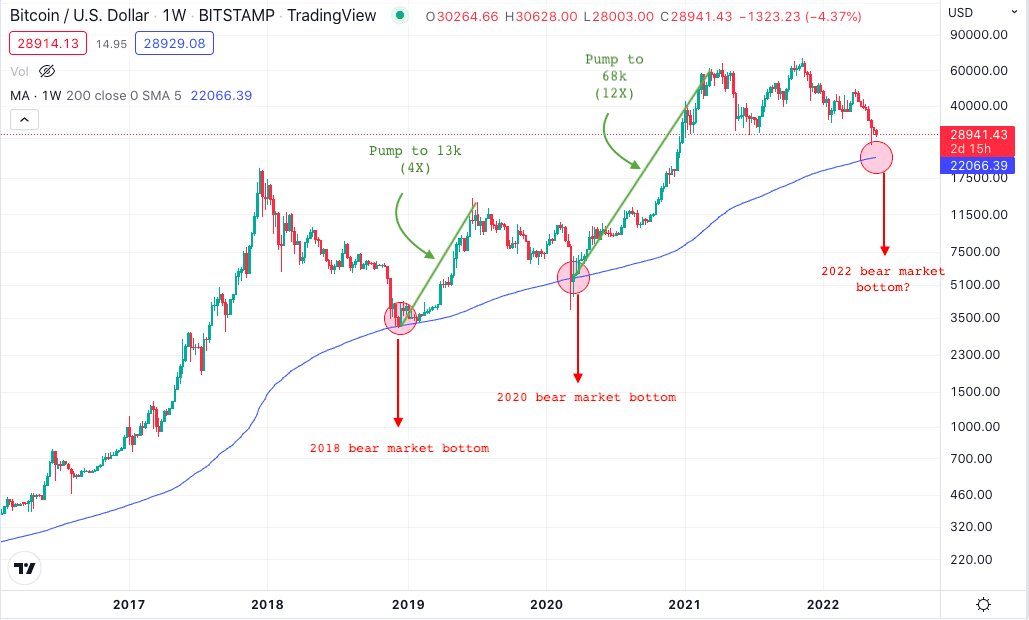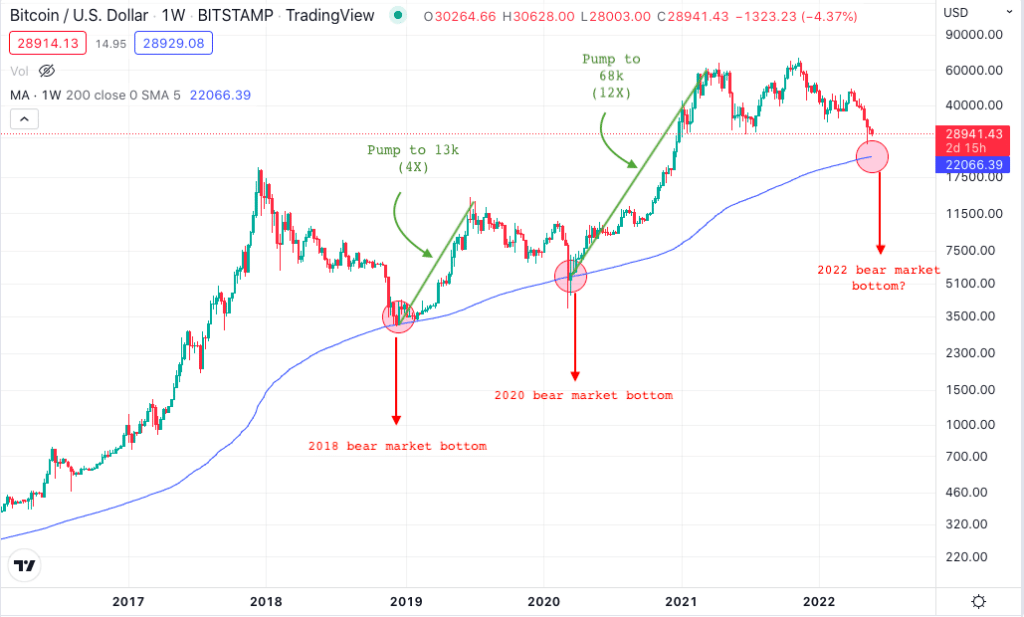 As seen above, the December 2018 price crash bounced from the line and afterward,
BTC pumped 320% to a high of $13K.
Nearly two years later, it happened again. Bitcoin saw its prices dip to the SMA line and immediately bounced back,
rallying to the all-time high (ATH) of 68K.
A further two years down the line, and we may be seeing the same movement again. If it holds, we could see Bitcoin dip to about $22k before it pumps to another ATH – hopefully.. However,
the Bitcoin market has grown bigger and stronger since 2020
, and many experts doubt that institutional investors will let BTC drop to as low as $22K. In fact, JPMorgan reported some days ago that Bitcoin is currently undervalued, and
its fair value should be closer to $38K.
As things stand, millions of investors around the world are waiting for BTC to make its next move. And the belief is that we'll see some action as we approach the end of Q2 2022. To stay informed of happenings around Bitcoin and crypto, –
join the Moon Birdie Telegram Channel
, where we provide regular updates and analysis.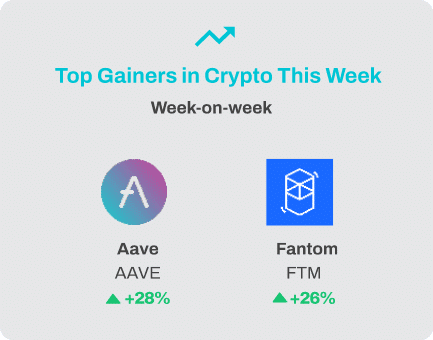 Aave launches social media network – pumps by 28%
Some weeks ago, Aave announced the launch of a decentralized social media network called Lens Protocol. People are interested in this concept, as it allows censorship-free content creation. Subsequently, the AAVE token has seen sustained upside this week. Keep an eye on this project; if it actually pulls off a decentralized social media, its value will rise even more than it did this week. .
Fantom token price rises on developer news
This week, Fantom saw its token FTM rise by 26% on rumors that well-known DeFi developer Andre Conje is returning to the team. Conje is a popular name in blockchain development circles and he was involved in notable projects like Yearn Finance, Cover, and Sushiswap. This seems like a flimsy reason to buy any coin, but Fantom is a solid project. With current prices below $0.35, FTM could be a steal when the bull market resumes.
Bitcoin talk dominates the WEF
The World Economic Forum took place in Switzerland from Sunday to Thursday, and global thought leaders gathered to discuss the future of the international economy. Talk of Bitcoin and cryptocurrencies took center stage, and now more than ever, people are starting to realize that crypto WILL become a mainstay in the global economy.  
The CEOs of Nasdaq and PayPal had some fairly positive things to say, while leaders from traditional banking organizations were harsh in their reviews. But as the popular saying goes, 'there's no such thing as bad press'. Five years ago, many of these people had no idea what BTC was, now they understand how it threatens their regime of control. A decade from now, they'll have no choice but accept the reality of cryptocurrencies.  
The CEO of Circle (USDC), Jeremy Allaire, said during a panel, "We don't think about cross-border emails. We don't think about having a cross-border web browsing session, it's absurd to think about that. And I believe we're on the cusp of that with money."
How to Earn Free Crypto With Airdrops
It's been a boring few weeks in the crypto space, and with trading volume trending so low, investors and newcomers have had little choice but to sit and wait. While you wait, you can take advantage of airdrops to win some free coins. If you don't know how to do that, check out
this Moon Birdie Academy lesson.
This week, Kava is giving out $200K to new users on the platform, and
here's what you need to do to qualify.
JPMorgan replaces real estate with crypto as preferred alternative asset
In a recent report, global investment bank JPMorgan says it is removing real estate as its preferred alternative asset and replacing it with cryptocurrencies.
The NFL is launching a play-to-earn game
The American National Football League (NFL) says it's launching a P2E game. No details have been released, but you can join the waitlist
here
.
Terra is planning a 'rebirth' – with the support of exchanges
The Terra project is planning a relaunch, with the support of several of the leading exchanges. To start, an airdrop is being organized to compensate those affected by the crash.
Tether releases new stablecoin for Latin American markets
Tether is launching MXNT, a stablecoin pegged to Mexican Peso. Given its billion-dollar economy and proximity to the US, the country is primed to be the next big crypto hub. .
We partner with the leading crypto companies to source the most recent and convenient deals for you: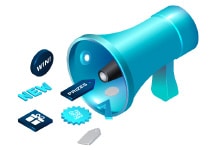 Sign up on Phemex to trade spot and derivatives on a reliable platform. There's a welcome bonus of $100 for new users!
Need a safe wallet for your Crypto? Get the Trezor Starter Pack Voucher now! $25 gift card voucher!
CakeDefi, the easiest app to invest in decentralized finance assets. Start your crypto journey today!
Thanks for staying with us till the end of this week's edition. We hope you picked up some insightful nuggets along the way. The power to create wealth is out there. It's up to you to fly high and get it!
To learn more about cryptocurrencies, investing, trading, and blockchain technology, please visit our Academy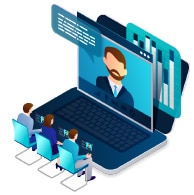 The content in this newsletter is for informational purposes only. The content of this email is not intended to serve as financial advice. Every investment and trading move involves risk. Do your own research before making a decision.

Disclosure: some of the links we've included are affiliate, you earn rewards and discounts and we earn a commission