WEEKLY UPDATE - 10 JUNE 2022
What Happened In Crypto This Week
Dear Moon Birdies,

This week, we heard from people who have used Bitcoin in life or death situations, and they bring into focus why crypto must always have a place in the world. In this edition, we also explore the new crypto bill, why HNT and LINK are up 30+%, and provide answers to some frequently asked questions about cryptocurrencies.
The crypto market overview for the week is summarized perfectly by the chart below. Extended periods of low volume and activity, then an 8% rally that raised hopes, only to be followed by a painful drop that returned Bitcoin back where it started. It's annoying, boring, and impossible to trade. Furthermore, altcoins are bleeding a lot, so investors are moving their funds to the leading crypto, causing BTC dominance to rise (now at 46.5%).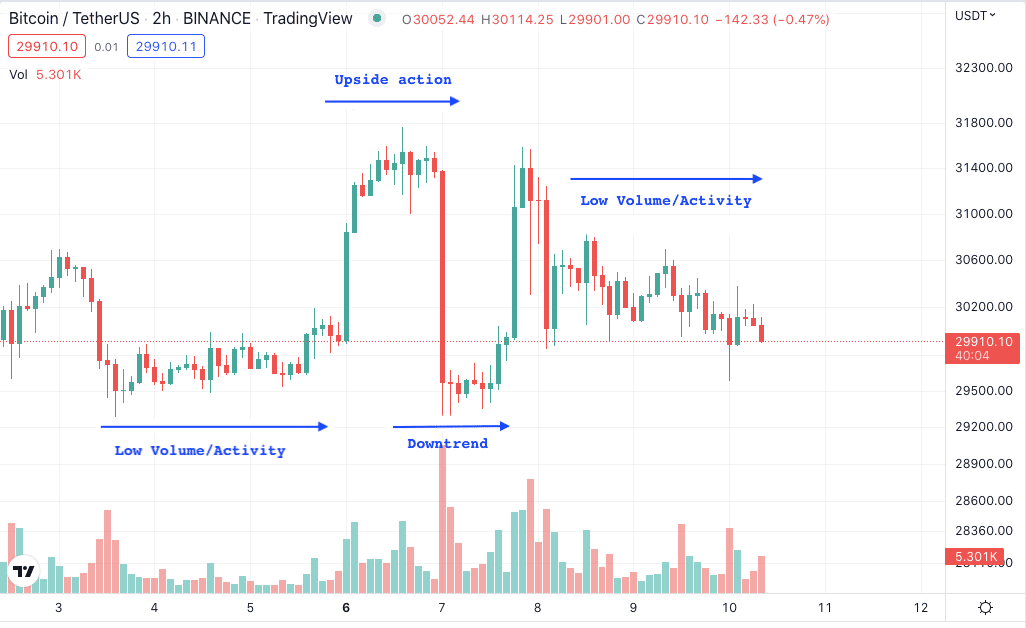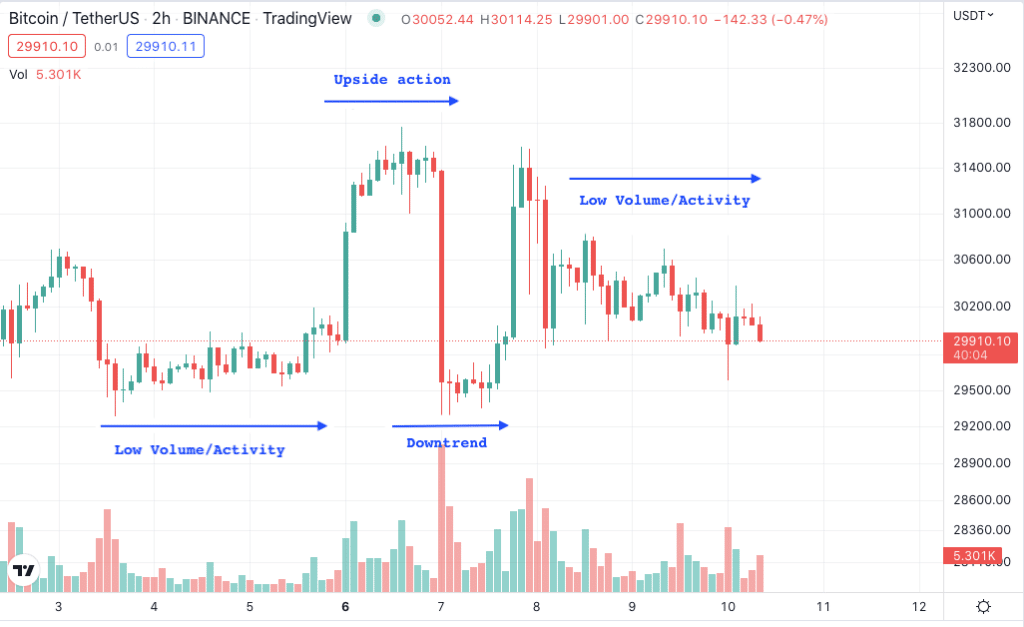 It was a mostly uninspiring week. Until some days ago, when a group of activists published a letter that reminded everyone why Bitcoin was created in the first place. They highlighted the role crypto plays in enforcing people's rights, how it empowers them to fight back against oppressive regimes, and the access it provides to wealth creation opportunities for everyone – no matter how privileged.
"For me, Bitcoin is not just technology. It has literally saved the lives of my friends and many Ukrainians." – Lyudmyla Kozlovska
About the same time, two US Senators submitted a bill to congress to help legislators in the world's biggest economy understand why crypto is important, and the benefits of regulating it without obstructing the growth of the biggest technological (and financial) movement of our lifetime.
So, it ended up being a good week for digital currencies. And this was reinforced by news that Ethereum's transition to proof-of-stake is on track. The Merge is extremely bullish, and market observers aren't ruling out that it may be the catalyst for the next crypto bull run. In more sobering news, inflation data from the US was worse than expected, so in the short-term, we remain stuck with the current bearish sentiment. Join us on the Moon Birdie Telegram Channel for real-time technical & fundamental analysis and exclusive insights on cryptocurrencies.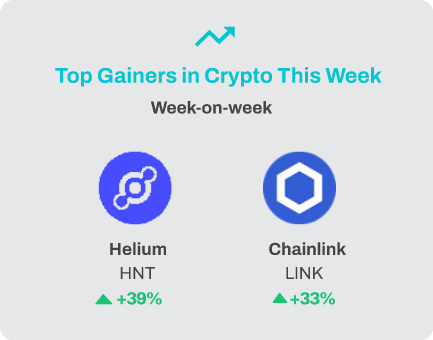 Helium pumps by 39% after community vote
Helium is a blockchain network that aims to connect billions of devices, providing users with cheap internet access, internet of things (IoT) functionality, and an easy way to earn crypto. This week, the Helium DAO voted to expand its services to cover 5G and WiFi, opening up a wide range of vital use cases. Helium also released a new wallet app for its 600K+ users. These updates combined to push HNT up by ~40% for the week. Keep an eye on this one. . 
Multiple new updates boost LINK price
Chainlink is the leading oracle network in the blockchain space, and it connects smart contracts to real-world data sources. It has been an eventful week for the project. Firstly, five Chainlink services were integrated on Ethereum, Polygon, Solana, and BNBChain. Then, its VRF feature got adopted by Avalanche and Megaverse. To top it all up, the team announced that its native token can now be staked for rewards. It's no surprise that LINK is up by 33%. It's currently trading around $0.50
Washington is finally giving crypto a chance
For years, crypto advocates have pleaded with governments worldwide to take an objective look at digital currencies and explore the many opportunities it provides. However, the officials only see it as a sector they cannot easily control (and tax), so they've been doing all they can to stifle its growth. But this week, Senators Lummis and Gillibrand sent a bill to the US Congress.
Surprisingly, it was a very positive one. And the two lawmakers provided an extensive overview of digital technologies, cryptocurrencies, and how it can be regulated responsibly. You can read the key points of the bill here. The most important part, however, is that it recommends that a majority of crypto (including BTC and ETH) be regarded as commodities. As a result, the sector would be regulated by the Commodity Futures Trading Commission (CFTC) and not the SEC.
The SEC is notoriously anti-crypto, often going out of its way to restrict usage and growth in the US. On the other hand, the CFTC is willing to regulate fairly, and the organization's chairman, Rostin Behnam, is pro-crypto. This week, he said concerning the bill, "It's just a positive momentum, I think, for the technology, for the industry, for the economy…We have to evolve with [the] markets. We have to evolve with technology."
Is Crypto Used for Criminal Activities?
One of the biggest arguments against crypto is that criminal elements use it overwhelmingly to transact and hide their activities. However, this claim is false, and the data actually says otherwise. In this Moon Birdie article, we explore this and other Frequently Asked Questions About Crypto for you.
PayPal adds crypto deposit and withdrawal
PayPal has announced that its 400+ million users can now send and receive crypto via their wallets.
Felix Capital raises $600M for Web3
VC firm, Felix Capital, has raised $600M to invest in crypto, web3, and blockchain projects – beating its target by $100M.
VeChain signs $100M sponsorship with UFC
Public blockchain platform, VeChain, recently signed the biggest sponsorship deal in MMA history; a commitment of $100M over 5 years.
Ronin surpasses $4B in all-time NFT sales
Ethereum sidechain, Ronin, has surpassed $4B in total NFT sales, making it the second biggest blockchain by sales volume – behind only Ethereum itself.
We partner with the leading crypto companies to source the most recent and convenient deals for you: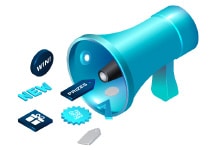 AAX is a fast-growing crypto exchange (available in China) that offers 20% APY on savings. Register now and get a 110 USDT bonus
Protect your internet activities for the next 12 months with Atlas VPN. Get 81% OFF now
FTX is currently the second biggest exchange by trading volume. Sign up today and get 5% OFF all fees
Thanks for staying with us till the end of this week's edition. We hope you picked up some insightful nuggets along the way. The power to create wealth is out there. It's up to you to fly high and get it!
To learn more about cryptocurrencies, investing, trading, and blockchain technology, please visit our Academy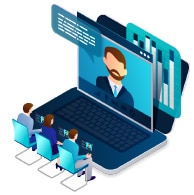 The content in this newsletter is for informational purposes only. The content of this email is not intended to serve as financial advice. Every investment and trading move involves risk. Do your own research before making a decision.

Disclosure: some of the links we've included are affiliate, you earn rewards and discounts and we earn a commission